Chainsaw Bar GB Arbor Tech 10" 3/8LP .050 PO Mount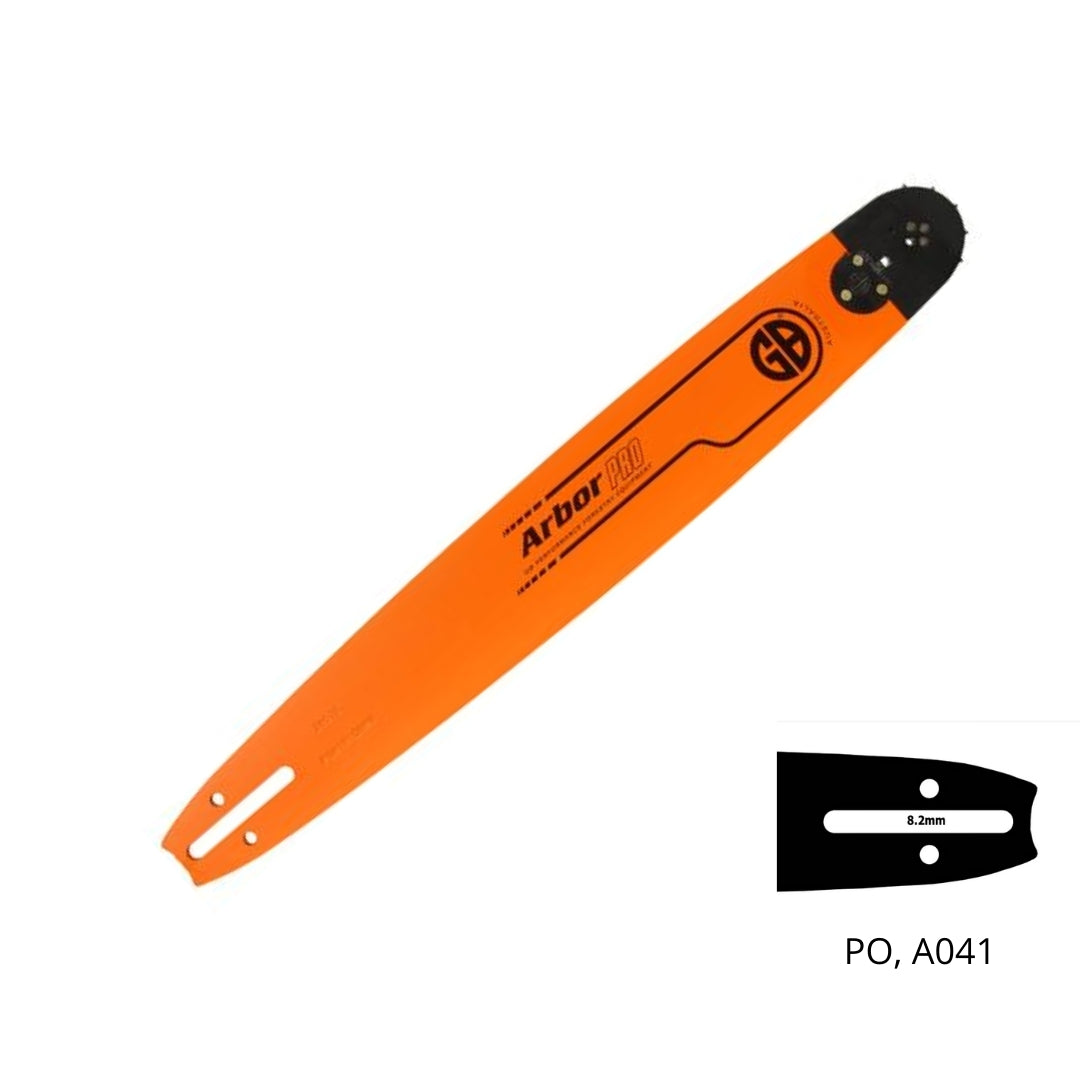 GB Arbor Tech are a professional replacement nose bar designed for commercial users. Ideal for small - medium chainsaws.  GB Arbor Tech feature a one piece solid steel body specially heat treated and hardened. Its high-tech nose sprocket runs on precision Swiss bearings. 
Length 10 inch
Drive link count 42
Pitch 3/8LP
Gauge .050"
Mount PO - A041
Model PO10-50WR
Fits chainsaw models with 3/8LP" pitch drive sprocket fitted*.
ALPINA: 361, 391, A10E, A14E, E120, E130, E150, E35, E40, KS1400, KS1500, P34
DOLMAR: 100, 101, 102, 103, 104, 105, 106, 108, 275, 285, 295, 3000, 3300, 90VP, 95VP, ES140, ES152, ES160, ES1600, ES162, ES172, ES31, ES36, P533, PS33, PS330, PS34, PS340, PS341, PS341, PS342, PS344, PS400, PS401, PS410, PS411
ECHO: CS2000, CS2600, CS2700, CS280, CS2800, CS285, CS290, CS2900, CS300, CS3000, CS301, CS302, CS304, CS305, CS3050, CS310, CS315, CS320, CS328, CS330, CS340, CS3400, CS341, CS345, CS3450, CS346, CS350, CS3500, CS351, CS360, CS370, E155
EFCO: 131
GREEN MACHINE: 33, 38, 7100, 7200, 7400
HOMELITE - New Models: CSP3314, CSP3316
HOMELITE - Previous Models: 20AV, 23AV, 25AV, 3300, 3350, 3550, 3800, 3850, D3850B, Ranger
HUSQVARNA: 136, 137, 137E, 141, 142, 142E, 23, 243, 315EL, 318EL, 320EL, 321EL, 325P4, 325P5X, 36, 41
JOHN DEERE: 200, 230, 25, 28, 30, 300, 3300, 3350, 35, 3800, 3850, 40, 4150, 45, 450, 450, 4550, 46, CS36, CS40
JONSERED: 2014, 2016, 2033, 2035, 2036, 2037, 2040, 2041, 2050, 2054, 2135, 2137, 2138, 2150
MAKITA: 5011B, 5012B, 5014B, 5016B, DC410, DCS300, DCS33, DCS330, DCS3305, DCS34, DCS340, DCS341, DCS344, DCS350, DCS390, DCS400, DCS401, DCS411, DES330S, DES390, DES400
MTD: 125, 136, 140S
OLEO MAC & OLYMPIK: 925, 931, 932, 935, 936, 940
OPEM: 130Z, 140Z, 142Z
PARTNER: 330, 335, 340, 345, 350, 351, 360, 365, 370, 385, 390, 395, 405, 420
POULAN & POULAN PRO: 1220, 1425, 1625, 180, 1800, 190, 20, 200, 2000, 205, 2050, 2100, 2150, 222, 225, 2250, 2300, 235, 2350, 2375, 2375, 2400, 2450, 25 SERIES, 250, 2500, 255, 2550, 260, 285, 295, 305, 306, 310, 325, 335, 336, 523, ES400, PP210, PP260, PP295, PP300E, PP310, PP335
REDMAX - ZENOAH: 3400, 361, 3700, 375, 3800, 400, 4000, 4200, 4400, 450, 4900, 5200, G2500, G250B, G250TS, G300TS, G3100, G310TS, G3200, G320AVS, G3300, G38, G3800, G380AVS, G46
RYOBI: CSE5145, CSE5650, ECR1835, ECR1935, ECR2040, GT28, GT32, GT38, PCN3335, RB5418, RFS4518, RGS3214, RYS3816
SHINDAIWA: 100, 102, 103, 104, 105, 107, 110, 113, 117, 140, 160, 285S, 291, 300, 301, 305, 340, 345, 346, 350, 352S, 355, 357, 360, 377, 391, 401, 415, 416, 450, 451, 488, 500, E120, E150, E180, EYB120, EYB150, EYB180, YB291, YB301, YB391, YB395, YB401, YB491
SINA: SCS3800I
TAS-TANAKA: 2510, 290, 300, 320, 330, 35, 350, 3500, 351, 355, 356, 370, 375, 4000, 405, 415, ECS3301, ECS3351, ECS3500, TCS2801S, TCS3301, TCS3401, TPS200, TPS2501