Chainsaw Bar GB ProTop Titanium 24" 3/8 .050 EX Echo Mount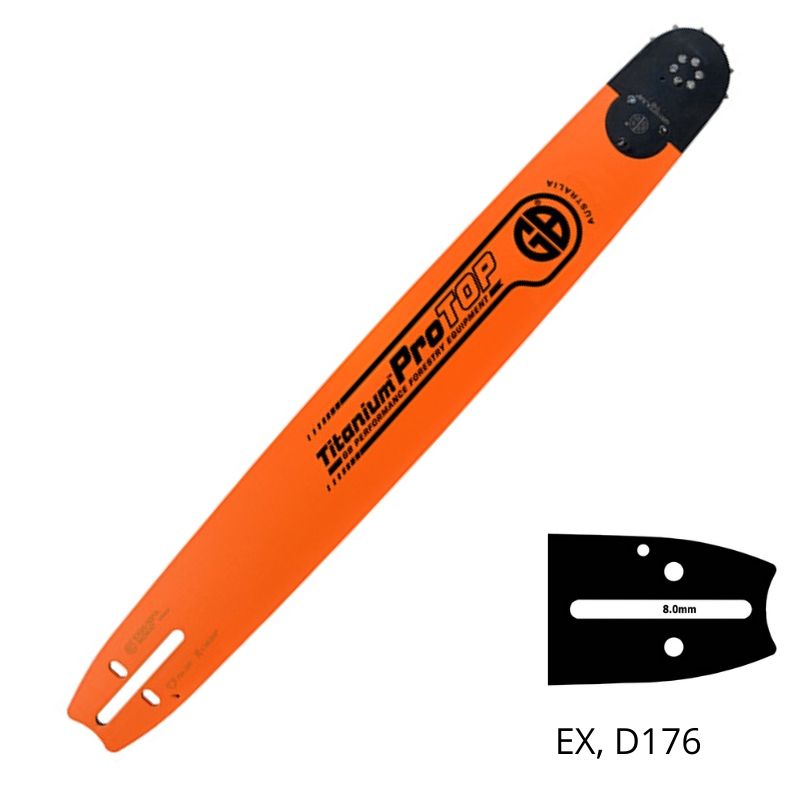 GB Titanium ProTop "EX Mount"
Length 24 inch
Drive Link count 84
Pitch 3/8" 
Gauge .050"
Mount EX - D176
Model EX24-50PA
GB Pro-Top titanium is a durable replaceable sprocket nose bar designed and built for demanding professional users. Pro-Top is ideally suited for high-speed / high-powered chainsaws where light weight and extreme durability are required. Pro-Top bars are precision engineered from high-tech, lightweight titanium alloy steel for extra-long life and easy manoeuvrability.
Bar fits
ECHO: 60, CS451, CS452, CS500, CS5000, CS501, CS510, CS550, CS5500, CS5501, CS600, CS601, CS602, CS610, CS650, CS660, CS670, CS6700, CS6701, CS6702, CS701, CS702, CS706, CS750, CS8000, CS8001, CS801, CS802
GREEN MACHINE: 7600, 7700
JOHN DEERE: 50AV, 50V, 51SV, 55SV, 55V, 60V, 65, 65SV, 66SV, 70V, 800V, 8EV
REDMAX - ZENOAH: G56AVS, G621AVS
TAS-TANAKA: 505, 506, 650, 655